MCO Special Condition Promotion
MCO特别情况优惠
Cremation Service All-In-One Package 火化服务All-In-One配套 从From RM 7,390 起
Burial Service All-In-One Package 土葬服务All-In-One配套 从From RM 9,100 起

* 30 Anniversary *
Golden Harvest Reward (GHR)

赠送果王丰收 (黄金榴莲)奖励

Promotion Valid till
31-05-2022
长在树上的榴莲如同黄金,随着全球需求激增,榴莲价格也暴涨,是一个可持续的种植项目,长期回酬非常可观。榴莲苑位于彭亨劳勿,是一家系统化,规模化及数码化的榴莲庄园,种植面积超过400英亩,并由上百位农业种植专员及农业专家,搭配现代化种植及专业化营运,兼顾榴莲质与量。

配合富贵集团欢庆30周年,特与榴莲苑强强联手,诚意推出"果王丰收奖励"回馈客户。

☑零风险 ☑只送不卖 ☑每年送奖励金,总送三十年
Nirvana Funeral Package
The death of a close one is a stressful and heartbreaking time for any living being, especially for humans because they might make their peace with it after a while, but they will never be able to forget a person and get over them.
Another factor contributing to it is that deaths cannot be planned, so there are many things that are left unsaid, and the event takes place in such a way that you can never be prepared for it.
In such a hard time, it is tough for the near ones to make decisions regarding the last rites of their loved ones, including deciding the way of the funeral, making arrangements for it, and of course, the monetary side.
In such a case, a funeral package is a shelter of relief that frees the nearby ones from all these responsibilities and allows them to have their final time with their loved ones in peace.
Moreover, the Nirvana funeral package also relieves them of the financial burden and crucial and immediate decisions they might have made in urgency if they do not have a Nirvana package.
We offer multiple funeral packages for you to choose from. Each nirvana funeral package has features of its own. You can decide how your last rites should be, what religion, customs and traditions you would want to be followed. The details can also include the places you would wish your last rites to be and any other preferences that you might like to list.
Choosing a nirvana package also gives complete control over your life, especially on the final part. It would be the last impression one leaves on the world, and it really has to speak for the person.
We understand that discussing death is discouraged in our society, and it should be because it spreads hopelessness and pessimism and kills life's purpose. But it is essential that you pre-plan your death not only because you will control your last rites yourself but also because your close ones would be devastated at that time when they will have to make such decisions for you.
Choosing a nirvana funeral package will also freeze time for you in the sense that you will not have to bear the fluctuation of the currencies and inflation of necessary things for your funeral package as you will make the deal today.
Take control of your life, leave the impression you want and relieve your loved ones of responsibilities in a devastating time. Choose our nirvana package today.
* April Nirvana Promotions *
4月份重磅精选优惠
Promotion Valid till
31-05-2022

Nirvana Center KL - Columbarium
富贵生命馆 (吉隆玻) - 骨灰殿
Columbarium (Aircond) - 骨灰殿 (冷气)
Hall D2
Columbarium (Aircond) - 骨灰殿 (冷气)
Hall D2
Columbarium (Aircond) - 骨灰殿 (冷气)
Hall D1
Columbarium (Aircond) - 骨灰殿 (冷气)
Hall B1
Columbarium (Aircond) - 骨灰殿 (冷气)
Hall B2
Columbarium (Aircond) - 骨灰殿 (冷气)
Hall B2
Columbarium (Aircond) - 骨灰殿 (冷气)
Hall A1-S3
Columbarium (Aircond) - 骨灰殿 (冷气)
Hall A2-S1
Nirvana Semenyih - Columbarium Niches
富贵山庄 (士毛月) - 骨灰殿
Columbarium 骨灰殿
Ji Le Dian- 极乐殿
Columbarium 骨灰殿
Oriental Villa 1 - 桃园古镇 1
Christian Columbarium 基督骨灰殿
Eternal Suite - 永恒天境
Columbarium 骨灰殿
Oriental Villa 3 桃园古镇 3
Nirvana Shah Alam - Columbarium Niches
富贵山庄 (莎亚南) - 骨灰殿
Columbarium 骨灰殿
Tang Villa 1 - 唐城 1
Nirvana Klang - Columbarium / Niches
富贵山庄 (巴生) - 骨灰殿
Columbarium (Aircond) - 骨灰殿 (冷气)
Block A - Hall B S2
Columbarium - 骨灰殿
Block A - Hall A
Columbarium 骨灰殿
Ming Palace 1 - 明宫1 & Ming Palace 3 - 明宫 3
Burial Land 风水福地
The Garden - 合川园
Burial Land 风水福地
NV-N Combo Lot 精装福地配套
Burial Land 风水福地
Zone Royal 2 精装福地配套
Burial Land 风水福地
Zone M 精装福地配套
Burial Land - 风水福地
Zone G Combo Lot - 精装福地配套
Burial Land - 风水福地
Zone N Combo Lot - 精装福地配套
Christian Memorial Garden 基督墓园
Zone Solomon
Columbarium - 骨灰殿
Paradise Valley - 极乐殿
Columbarium - 骨灰殿
Forget Me Not - 感恩园
Columbarium - 骨灰殿
Eternal Garden 1 - 永恒天境 1
Columbarium - 骨灰殿
Pavilion 2 - 圆满殿 2
Burial Land - 风水福地
Eternal Garden 2 - 永恒天境 2
Burial Land - 风水福地
Zone NV Majestic 1 - 风水福地
Burial Land - 风水福地
Zone Nirvana Garden 1 - 风水福地
Pre Need NLP Promotion 特别优惠券
Agent Loyalty - Appreciation Reward
Exclusive Benefits
Funeral Service Package Special Promotion
圆满契约配套 特别促销
Promotion Date from 01-05-2022 to 31-05-2022
NCKL/ Nirvana 2 Promotion
富贵生命馆 促销
Promotion from 01/05/2022 till 31/05/2022

0% Interest Installment & Perpetual Maintenance Trust Fund
零利息分期付款 & 永久信托管理基金
NCKL Hall A2-S1 *New* Urn/Niche 骨灰位
Double 双位 From RM 53,800*
-可获得6到8 unit GHR,回酬率400%的榴莲园奖励金
-Exclusive Loyalty Voucher up to 25% DIscount

-头期只需付20% Down Payment
-免利息分期付款高达36/60个月months interest free installment
-风水绝佳,福泽子孙! Good Feng Shui

-Price shown above for Pre-Need Niche only
-Maintenance & Facility Fees RM 5,000
NCKL

Hall B2-S7 Christian/Catholic

Urn/Niche 骨灰位


Double 双位 From RM35,800*




Single 单位From RM 20,800*
可获得 3 到 7 unit GHR,回酬率400%的榴莲园奖励金
Exclusive Special Discount up to 25% Discount
头期只需付20% Down Payment
免利息分期付款高达36/60个月 months interest free installment

风水绝佳,福泽子孙!Good Feng Shui
-Price shown above for Pre-Need Niche only*–
-Maintenance & Facility Fees RM5,000
NCKL Hall B2-S9 *NEW* Buddhist Urn/Niche 骨灰位
Double 双位 From RM 40,800*
-可获得5到7 unit GHR,回酬率400%的榴莲园奖励金
-Exclusive Loyalty Voucher up to 25% DIscount

-头期只需付20% Down Payment
-免利息分期付款高达36/60个月months interest free installment
-风水绝佳,福泽子孙! Good Feng Shui

-Price shown above for Pre-Need Niche only
-Maintenance & Facility Fees RM 5,000
NCKL Hall B2-S3,S5 Buddhist Urn/Niche 骨灰位
Double 双位 From RM 38,800*
-可获得5到7 unit GHR,回酬率400%的榴莲园奖励金
-Exclusive Loyalty Voucher up to 25% DIscount

-头期只需付20% Down Payment
-免利息分期付款高达36/60个月months interest free installment
-风水绝佳,福泽子孙! Good Feng Shui

-Price shown above for Pre-Need Niche only
-Maintenance & Facility Fees RM 5,000
NCKL Hall D2 Buddhist Urn/Niche 骨灰位
Double 双位 From RM 26,800*
-可获得4到5 unit GHR,回酬率400%的榴莲园奖励金
-Exclusive Loyalty Voucher up to 25% DIscount

-头期只需付20% Down Payment
-免利息分期付款高达36/60个月months interest free installment
-风水绝佳,福泽子孙! Good Feng Shui

-Price shown above for Pre-Need Niche only
-Maintenance & Facility Fees RM 4,000
NCKL Hall B2-S6 Christian/Catholic Urn/Niche 骨灰位
Double 双位 From RM 35,800*
Single 单位 From RM 19,800*
-可获得4到7 unit GHR,回酬率400%的榴莲园奖励金
-Exclusive Loyalty Voucher up to 25% Discount

-头期只需付20% Down Payment
-免利息分期付款高达36/60个月months interest free installment
-风水绝佳,福泽子孙! Good Feng Shui

-Price shown above for Pre-Need Niche only
-Maintenance & Facility Fees RM 5,000
Nirvana Shah Alam Promotion
莎亚南富贵山庄 促销
Promotion from 01/05/2022 till 31/05/2022

0% Interest Installment & Perpetual Maintenance Trust Fund
零利息分期付款 & 永久信托管理基金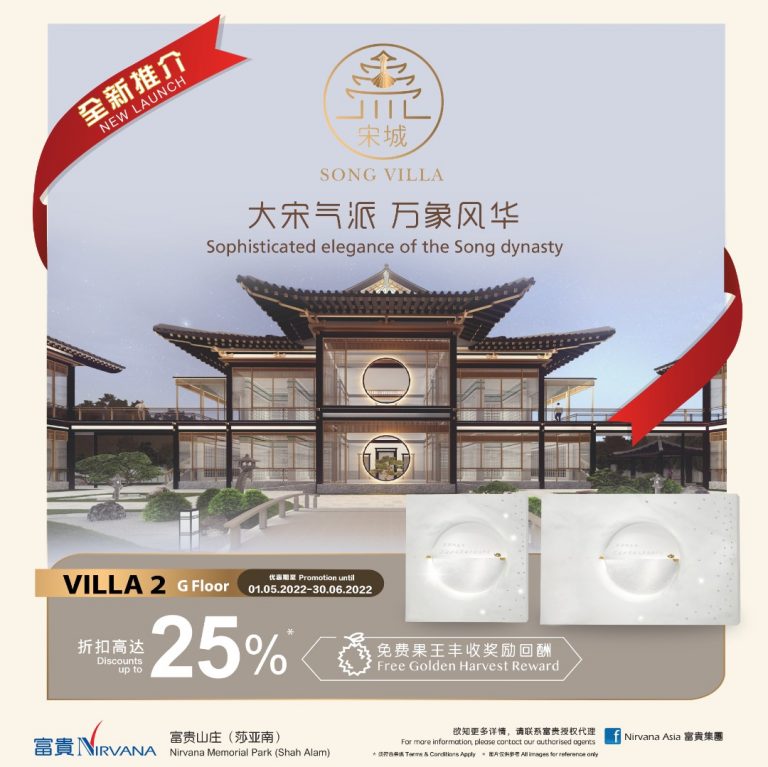 Shah Alam

Song Villa

Urn/Niche 骨灰位


Double 双位 From RM 16,800*




Single 单位 From RM 10,800*
可获得 2 unit GHR,回酬率400%的榴莲园奖励金
Exclusive Special Discount up to 25% Discount

头期只需付20% Down Payment

免利息分期付款高达24/36个月 months interest free installment

风水绝佳,福泽子孙!Good Feng Shui
-Price shown above for Pre-Need Niche only*–
-Maintenance & Facility Fees RM2,000-RM4,000
Shah Alam MP3 – GF, 1F Buddhist Urn/Niche 骨灰位
Double 双位 From RM 31,800*
-可获得 4 到 7 unit GHR,回酬率400%的榴莲园奖励金
-Exclusive Loyalty Voucher up to 30% DIscount

-头期只需付20% Down Payment
-免利息分期付款高达36/60个月months interest free installment
-风水绝佳,福泽子孙! Good Feng Shui

-Price shown above for Pre-Need Niche only
-Maintenance & Facility Fees RM 5,000
Shah Alam Perpetual Garden Christian Urn/Niche 骨灰位
Double 双位 From RM 25,800*
Single 单位 From RM 12,800*
-可获得 4 unit GHR,回酬率400%的榴莲园奖励金
-Exclusive Loyalty Voucher up to 25% DIscount

-头期只需付20% Down Payment
-免利息分期付款高达36个月months interest free installment
-风水绝佳,福泽子孙! Good Feng Shui

-Price shown above for Pre-Need Niche only
-Maintenance & Facility Fees RM 4,000
Shah Alam Heritage Court HC13 Urn/Niche 骨灰位
Double 双位 From RM 5,800*
Single 单位 From RM3,000*
-Lowest Price Niche 最低价格骨灰塔
-头期只需付20% Down Payment
-免利息分期付款高达36个月months interest free installment
风水绝佳,福泽子孙! Good Feng Shui

-Price shown above for Pre-Need Niche only
-Maintenance & Facility Fees RM1,000-RM 2,000
Nirvana Semenyih Promotion
士毛月富贵山庄 促销
Promotion from 01/05/2022 till 31/05/2022

0% Interest Installment & Perpetual Maintenance Trust Fund
零利息分期付款 & 永久信托管理基金
Semenyih NVR Burial Land 福地
Single 单位 From RM 29,800*

-Exclusive Loyalty Voucher up to 25% Discount

-头期只需付20% Down Payment
-免利息分期付款高达36/60个月months interest free installment
-风水绝佳,福泽子孙! Good Feng Shui

-Price shown above for Pre-Need Land only
-Maintenance & Facility Fees RM 5,000
-Backwall from RM 5,200
-Price stated above do not include hole excavation & formation
Semenyih Dynasty 2 Burial Land 福地
Family 家族位 八位 RM283,800*
-可获得 33 到 41 unit GHR,回酬率400%的榴莲园奖励金
-Exclusive Loyalty Voucher up to 25% Discount

-头期只需付20% Down Payment
-免利息分期付款高达60个月months interest free installment
-风水绝佳,福泽子孙! Good Feng Shui

-Price shown above for Pre-Need Land only
-Maintenance & Facility Fees RM 16,000
-Backwall from RM 19,000
-Price stated above do not include hole excavation & formation
Semenyih NVN Burial Land 福地
Double 双位 From RM 52,800*
-可获得 7 到10 unit GHR,回酬率400%的榴莲园奖励金
-Exclusive Loyalty Voucher up to 25% DIscount

-头期只需付20% Down Payment
-免利息分期付款高达60个月months interest free installment
-风水绝佳,福泽子孙! Good Feng Shui

-Price shown above for Pre-Need Land only
-Maintenance & Facility Fees RM 5,000
-Backwall from RM 5,200
-Price stated above do not include hole excavation & formation
Semenyih NV Seed Sheng Ji 生基
From RM 19,500*
-可获得 3 unit GHR,回酬率400%的榴莲园奖励金

-头期只需付20% Down Payment
-免利息分期付款高达24个月months interest free installment
-风水绝佳,福泽子孙! Good Feng Shui

-Price shown above for Pre-Need Land only
-Maintenance & Facility Fees RM 500
-Price stated above do not include hole excavation & formation
Semenyih Ji Le Dian Urn/Niche 骨灰位
Double 双位 From RM 17,800*
-可获得3到5 unit GHR,回酬率400%的榴莲园奖励金
-Exclusive Loyalty Voucher up to 25% Discount

-头期只需付20% Down Payment
-免利息分期付款高达36个月months interest free installment
-风水绝佳,福泽子孙! Good Feng Shui

-Price shown above for Pre-Need Niche only
-Maintenance & Facility Fees RM 3,000
Semenyih OV3 Urn/Niche 骨灰位
Double 双位 From RM 30,800*
Single 单位 From RM21,800*
-可获得 4 到10 unit GHR,回酬率400%的榴莲园奖励金
-Exclusive Loyalty Voucher up to 25% Discount

-头期只需付20% Down Payment
-免利息分期付款高达36/60个月months interest free installment
-风水绝佳,福泽子孙! Good Feng Shui

-Price shown above for Pre-Need Niche only
-Maintenance & Facility Fees RM 3,000
Semenyih

DZW E

Ancestral Tablet 神主牌


RM 6,800*
Exclusive Special Discount up to RM1,800 Discount

头期只需付20% Down Payment

免利息分期付款高达24个月 months interest free installment
Nirvana Klang Promotion
巴生富贵山庄 促销
Promotion from 01/05/2022 till 31/05/2022

0% Interest Installment & Perpetual Maintenance Trust Fund
零利息分期付款 & 永久信托管理基金
Klang Gratitude Suite Urn/Niche 骨灰位
Double 双位 From RM 11,800*
-Exclusive Loyalty Voucher up to 25% DIscount

-头期只需付20% Down Payment
-免利息分期付款高达36个月months interest free installment
-风水绝佳,福泽子孙! Good Feng Shui

-Price shown above for Pre-Need Niche only
-Maintenance & Facility Fees RM 3,000
Klang Zone K Burial Land 福地
Double 双位 From RM 50,800*
-可获得6到 7 unit GHR,回酬率400%的榴莲园奖励金
-Exclusive Loyalty Voucher up to 25% DIscount

-头期只需付20% Down Payment
-免利息分期付款高达60个月months interest free installment
-风水绝佳,福泽子孙! Good Feng Shui

-Price shown above for Pre-Need Land only
-Maintenance & Facility Fees RM 5,000
-Backwall from RM 5,400
-Price stated above do not include hole excavation & formation
Klang Zone M Burial Land 福地
Double 双位 From RM 68,800*
-Exclusive Loyalty Voucher up to 25% Discount
-头期只需付20% Down Payment
-免利息分期付款高达60个月months interest free installment
-风水绝佳,福泽子孙! Good Feng Shui

-Price shown above for Pre-Need Land only
-Maintenance & Facility Fees RM 5,000
-Backwall from RM 5,400
-Price stated above do not include hole excavation & formation
Klang Zone Majestic Burial Land 福地
Family 八位 From RM 360,800*
-可获得42 到 49 unit GHR,回酬率400%的榴莲园奖励金
-Exclusive Loyalty Voucher up to 25% DIscount

-头期只需付20% Down Payment
-免利息分期付款高达60个月months interest free installment
-风水绝佳,福泽子孙! Good Feng Shui

-Price shown above for Pre-Need Land only
-Maintenance & Facility Fees RM 20,000
-Backwall from RM 18,000
-Price stated above do not include hole excavation & formation
Klang Block A- Hall B S2,S3 Urn/Niche 骨灰位
Double 双位 From RM 38,800*
-可获得 5 到 7 unit GHR,回酬率400%的榴莲园奖励金
-Exclusive Loyalty Voucher up to 25% DIscount

-头期只需付20% Down Payment
-免利息分期付款高达36/60个月months interest free installment
-风水绝佳,福泽子孙! Good Feng Shui

-Price shown above for Pre-Need Niche only
-Air-cond Niche
-Maintenance & Facility Fees RM 5,000
Contact us to know more Nirvana promotions!
联络我们来了解更多促销活动的信息!
Location Promotions 地区优惠 :-
To know more promotions on specific location, please click the hashtag below